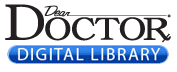 It is our great pleasure to provide you with the Dear Doctor - Dentistry & Oral Health Digital Library. Written exclusively by the foremost dental educators and clinicians in the field of dentistry, this library provides you with the latest developments and advancements on all aspects of dentistry to help you make the best decisions for your dental health. Such decisions can change not only your smile but your life for the better. If you have any questions after exploring the library, please feel free to ask our team.
You can get started by either searching for a dental term or procedure in the search box or you can view some popular articles below. Once the articles open, please feel free to print, email and share them with your friends and family.
Can Dentists Rebuild Bone?
Yes they can! It is very important to maintain bone volume following removal of a tooth so that dental implants remain a viable option for tooth replacement. This is easily accomplished with today's routine bone-grafting techniques... Read Article
Dental Implants – Your Third Set of Teeth
A discovery fifty years ago paved the way for one of dentistry's most exciting, natural looking and successful tooth replacement systems. Learn how dental implants might just possibly change your life... Read Article
The Hidden Consequences of Losing Teeth
For those missing even one tooth, an unsightly gap is actually the least significant problem. What's of far greater concern is the bone loss that inevitably follows tooth loss. Dental implants fused to the jawbone can preserve bone, improve function and enhance psychological well-being. Learn how implants serve both as anchors to support replacement teeth, and preserve bone as one of the better preventive maintenance procedures in dentistry... Read Article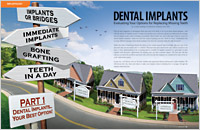 Dental Implants - Evaluating Your Options for Replacing Missing Teeth
As we guide you through the marketing hype you'll see that well planned implants most often require a team approach in assessing whether they're right for you. Not only are they a better treatment choice, they will last longer, possibly a lifetime, making them the right choice and the most cost effective option long term... Read Article
Implant Overdentures for the Lower Jaw
Implant overdentures represent a major change for the dental profession and the public. The lower jaw two-implant overdenture may be considered a more appropriate starting point over regular dentures... Read Article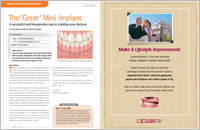 The Great Mini-Implant
A successful and inexpensive way to stabilize your dentures is with mini-implants. In a single visit, mini implants can be placed and your current dentures modified so that they fit much better and you can enjoy your favorite foods again... Read Article
The Link Between Heart & Gum Diseases
Inflammation has emerged as a factor that is involved in the process of Cardiovascular Disease (CVD), which commonly results in heart attacks and strokes. While the precise role inflammation plays in causing chronic CVD remains an area of intense current investigation, much more is now known. The good news is that, based on current research, we know that if we can reduce the inflammation caused by periodontal disease, we can reduce the risk for heart attacks and strokes... Read Article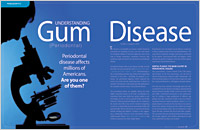 Understanding Gum (Periodontal) Disease
Have your gums ever bled when you brushed or flossed? This most commonly overlooked simple sign may be the start of silent (periodontal) disease leading to tooth loss. Learn what you can do to prevent this problem and keep your teeth for life... Read Article
Diabetes & Periodontal Disease
Diabetes and periodontal disease are chronic inflammatory diseases that impact the health of millions of people. What you may not know is that diabetes and periodontal disease can adversely affect each other... Read Article
Warning Signs of Periodontal (Gum) Disease
This article provides the warning signs of periodontal (gum) disease. Don't wait until it's too late... Read Article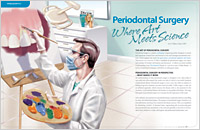 Periodontal Surgery - Where Art Meets Science
This article is an overview of how the art of plastic surgical procedures and the science of periodontics can enhance the health and beauty of your teeth. You will learn what periodontal surgery is designed to do, what makes it successful and what to expect during treatment... Read Article
Periodontal Plastic Surgery
Millions of Americans have some degree of gum recession — a loss of the tough, pink tissue that surrounds teeth. Receding gums can cause anything from minor tooth sensitivity to tooth loss in very severe cases. Fortunately, the field of periodontal plastic surgery has made enormous strides in devising techniques, including grafting, to deal with the problem of lost or damaged gum tissue... Read Article
About Dear Doctor Dentistry Magazine
Dear Doctor - Dentistry & Oral Health is a dental magazine written for the education of the general public. Dear Doctor provides information that is accurate, authoritative, and trustworthy on all aspects of dentistry and oral health including teeth whitening, porcelain veneers, dental implants, cosmetic dentistry, smile makeovers and more.
Copyright © 2014 Dear Doctor, Inc. All rights reserved. Copying or reproducing any text or graphics is strictly prohibited.